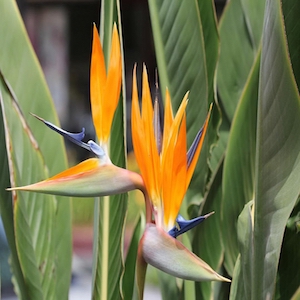 Strelitzia Reginae
Scientific Name: Strelitzia Reginae
Common names: Bird of Paradise
Growing Height: 1.5 metres high by 1 metre wide
A striking plant, with a stunning flower that creates a lush tropical look
The flowers and stem makes an excellent floral arrangement and create
This large, evergreen clump-forming plant has long-stalked, broad, bluish green leaves.
Its striking, orange and purple-blue flowers, which resemble an exotic bird, are borne on long stems in spring and summer.
Plant Care: Plant in fertile, well drained soil, using a high slow release nitrogen based fertiliser 2-3 times per year. Plant ion a brightly lit position or partial shade. Keep moist in warm weather. Water sparingly in cool weather. Remove damaged or spent leaves reguarly.
SEE OTHER FOLIAGE PLANTS
View one of our galleries